USASA License Plate for your car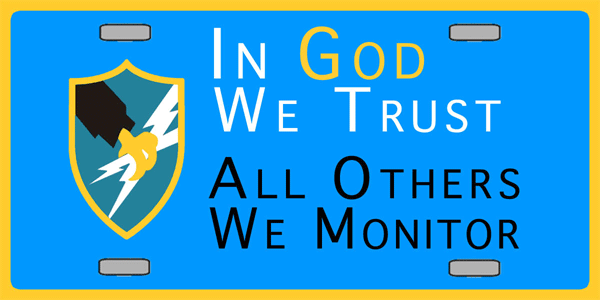 For your nostalgic enjoyment, an Army Security Agency (USASA) front plate for your car.
A 6X12-inch aluminum front plate for your car, so that you can let everyone know that you were once a part of the Army's Top Ten Percent. The design features a "Lightning Fast Chicken Plucker" patch, next to the motto:
In God We Trust. All Others We Monitor.
Sorry. Sold out.
---
Your state use both ends of your car for license plates for cars?
Then get yourself an Army Security Agency (USASA) bumper sticker!


Choose how many bumper stickers you would like and click on the "Buy It Now" button to make your purchase.

$5.00 plus $1.00 shipping.
No additional shipping charge for the second and/or third sticker purchased.
---
Crypies!
Visit our "Great Seal of Army SIGINT" page and enter the contest to decrypt the encrypted motto on the seal.
---
While you're here, please take the time to learn more about the ASA novel Voices Under Berlin: The Tale of a Monterey Mary, by following the links below.
Hill's new novel — Reunification — is now available for the fiftieth anniversary of the first permanent SIGINT collection presence on Teufelsberg, the operational home of Field Station Berlin