The 9539th does to the Secret Cold War
what the 4077th did to the Korean War
The Distinctive Unit Insignia (DUI) for the 9539th TCU (TeleCommunications Unit) pictured below was recreated from a photograph found in a shoe box by Kevin's daughter. It is the only known copy. The DUI was painted on an inside wall of the warehouse and was not known to have been worn as a part of the uniform of the members of the 9539th TCU.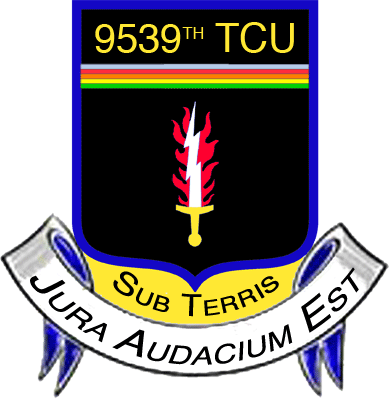 The flaming lightning sword symbolizes the 9539th's SIGINT role. A lightning bolt is typically used in the insignia of ASA/INSCOM units. You can see this in the insignia for ASA (patch and DUI), Field Station Berlin, Field Station Rothwesten and INSCOM below:

The flaming lightning sword recalls the flaming sword of the Berlin Brigade shoulder patch, as does the rainbow above the sword.

The black background of the insignia symbolizes the darkness of the underground world of the tunnel rats.
The Latin motto "Sub Terris Jura Audacium Est" means "Below Ground is the Realm of the Audacious."
The motto was incorrectly translated on the back of the photo as: "We're the light at the end of the tunnel."
You can get a T-shirt with the 9539th DUI on it at CafePress. For other T-shirt designs, visit our T-shirt page and our pre-Field Station page.
---
While you're here, please take the time to follow the links below, look around the site, and get to know more about Voices Under Berlin: The Tale of a Monterey Mary and Berlin in Early Cold-War Army Booklets. The novel is ostensibly set against the backdrop of the Berlin Tunnel, but it is just as much about life at Field Station Berlin in the mid-1970s as it is about the Berlin Tunnel of the mid-1950s. If you were ever stationed at Field Station Berlin or at Marienfelde, or Herzo Base, or Rothwesten or Augsburg, then this one's for you.