Field Station Rothwesten
The 17th USASA Field Station
Even though
Voices Under Berlin: The Tale of a Monterey Mary
is set in Berlin, veterans of Field Station Rothwesten should also feel themselves right at home. A reviewer on Amazon.com said: "Captures some of the more amusing aspects of trick work in a field station during the Cold War, as well as life in Germany for ASA personnel. This work would be of particular interest to ASA and DLIWC alums." To learn more about the novel, follow the links above.
---
For a history of Field Station Rothwesten, visit The National Army Security Agency Associaton's Rothwesten pages.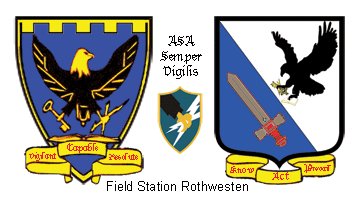 The crests for the 17th USASA Field Station and 319th ASA Battalion at Rothwesten,
flanking the ASA "Lightning Fast Chicken Plucker" patch. All three feature eagles.
The lightning bolt is an attribute of all three eagles.
The Field Station and Battalion eagles have the additional attributes of a Key and a Book.
The motto for the 17th ASA Field Station was "Vigilant, Capable, Resolute",
The motto for the 319th ASA Battalion was "Know, Act, Prevail",
The Latin motto of ASA was "Semper Vigilis" (English: Vigilant Always).
design by T.H.E. Hill
---
The Rothwesten design pictured above is available from our CafePress shop as:
A fridge magnet or sticker

(multipacks are available)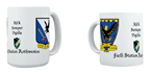 A mug (front and back)
Postcards


Greeting Cards (front and inside)
R-390 Fridge Magnets