Meet your ASA Baumholder comrades on the beautiful St. Lawrence River in October.
ASA Baumholder Reunion is slated to be held in Alexandria Bay, New York, Oct. 5-9. This year's reunion will be the 15th gathering of this organization. Interested parties should contact Wayne Atwell, who is hosting the event. He can be reached at 607-329-3119, or e-mail stalag8611(at)aol(dot)com. It should be a great time with many planned activities, and the St. Lawrence River in autumn will be beautiful.
---
The Distinctive Unit Insignia (DUI) for the Army Security Agency (ASA) unit at Baumholder pictured below was created after-the-fact, using a combination of traditional heraldic elements.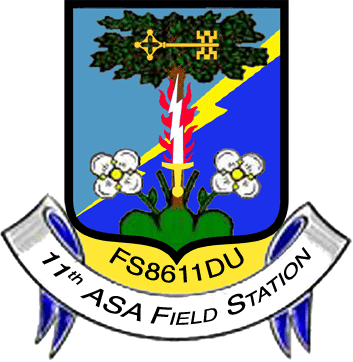 The DUI is an overlay of the crest of the city of Baumholder, the attributes of which are the tree and the flowers at the base of its trunk.
The background represents the sky with night and day serrated by a lightning bolt, symbolizing the 24-hour nature of ASA's operations. A lightning bolt is typically used in the insignia of ASA/INSCOM units. You can see this in the insignia for ASA (patch and DUI), Field Station Berlin, Field Station Rothwesten and INSCOM below:

The flaming lightning-bolt sword is another representation of the unit's SIGINT function, based on the flaming sword of USAREUR, as seen below with a Berlin tab.

The double-warded key symbolizes the unit's cryptologic mission.
The Janus-headed Sphinx shows that ASA does live, as the Sphinx—the symbol of Military Intelligence—marches into the future, while looking back at its past achievements.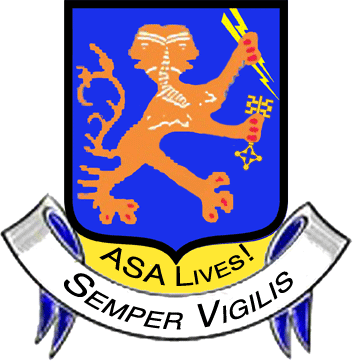 The lightning bolts clasped in the Sphinx's upper hand represent ASA's SIGINT function. The double-warded key in its lower hand represents ASA's cryptologic funtion.
Semper Vigilis (Always Vigilant) was the Latin motto of ASA.
---
ASA Baumholder fridge magnets pictured below are occasionally available on eBay.
ASA Baumholder Fridge Magnets

| | |
| --- | --- |
| | |
---
ASA Baumholder Shirts and mugs are available from our ASA Baumholder CafePress.com store.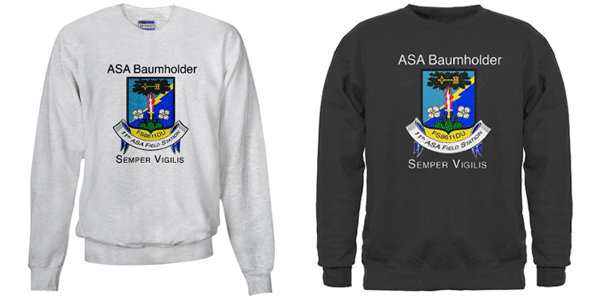 Also available with short sleeves.

The image on the right wraps around the mug (left).
---
While you're here, please take the time to follow the links below, look around the site, and get to know more about Voices Under Berlin: The Tale of a Monterey Mary and Berlin in Early Cold-War Army Booklets. The novel is ostensibly set against the backdrop of the Berlin Tunnel, but it is just as much about life at Field Station Berlin in the mid-1970s as it is about the Berlin Tunnel of the mid-1950s. If you were ever stationed at Field Station Berlin or at Marienfelde, or Herzo Base, or Rothwesten or Augsburg, or Baumholder, then this one's for you.