USASA Field Station Bad Aibling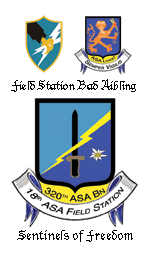 The crest for the 320th ASA Battalion at Bad Aibling, which became the Field Station's crest.
The background represents the sky with night and day serrated by a lightning bolt, symbolizing the 24-hour nature of ASA's operations. A lightning bolt is typically used in the insignia of ASA/INSCOM units. You can see this in the insignia for ASA (patch and DUI), Field Station Berlin, Field Station Rothwesten and INSCOM below:

The flaming lightning-bolt sword is another representation of the unit's SIGINT function,
This ASA Berlin design is a variant of the flaming sword of USAREUR, as used in the Berlin Brigade patch seen below.

---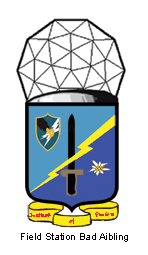 The crest has been modified to include the ASA "Lightning Fast Chicken Plucker" patch, commemorating the period of the 1950s, 1960s and 1970s when it was an ASA Field Station.
The crest is "crowned" with a Radome, which symbolizes the Field Station's mission just before it closed.
The motto for the 320th ASA Battalion was "Sentinels of Freedom".
The Latin motto of ASA was "Semper Vigilis".
---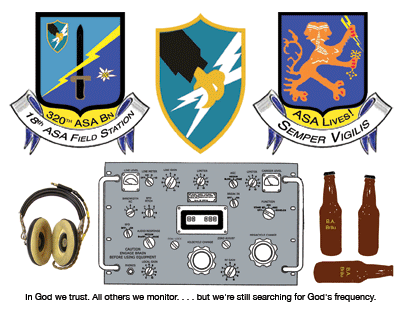 The Janus-headed Sphinx shows that ASA does live, as the Sphinx—the symbol of Military Intelligence—marches into the future, while looking back at its past achievements.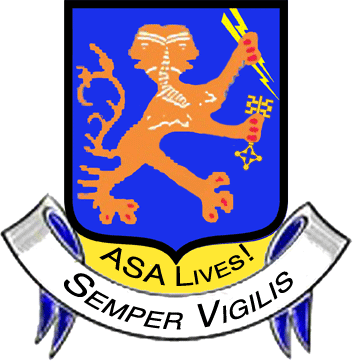 The lightning bolts clasped in the Sphinx's upper hand represent ASA's SIGINT function. The double-warded key in its lower hand represents ASA's cryptologic funtion.
Semper Vigilis (Always Vigilant) was the Latin motto of ASA.
design by T.H.E. Hill
---
The Bad Aibling designs pictured above is occasionally available on eBay as fridge magnets.
---
Writing in the Bad Aibling Lawn Tennis Association (BALTA) blog, Mike Hannan recommended Voices Under Berlin: The Tale of a Monterey Mary to Bad Aibling vets, saying:
"It's an ASA linguist thing that's very funny and brought many fun memories of our work in BA. I don't read much fiction but this is a winner for us ASA guys and gals. Elizabeth enjoyed it too."
To learn more about Voices Under Berlin, follow the links below.